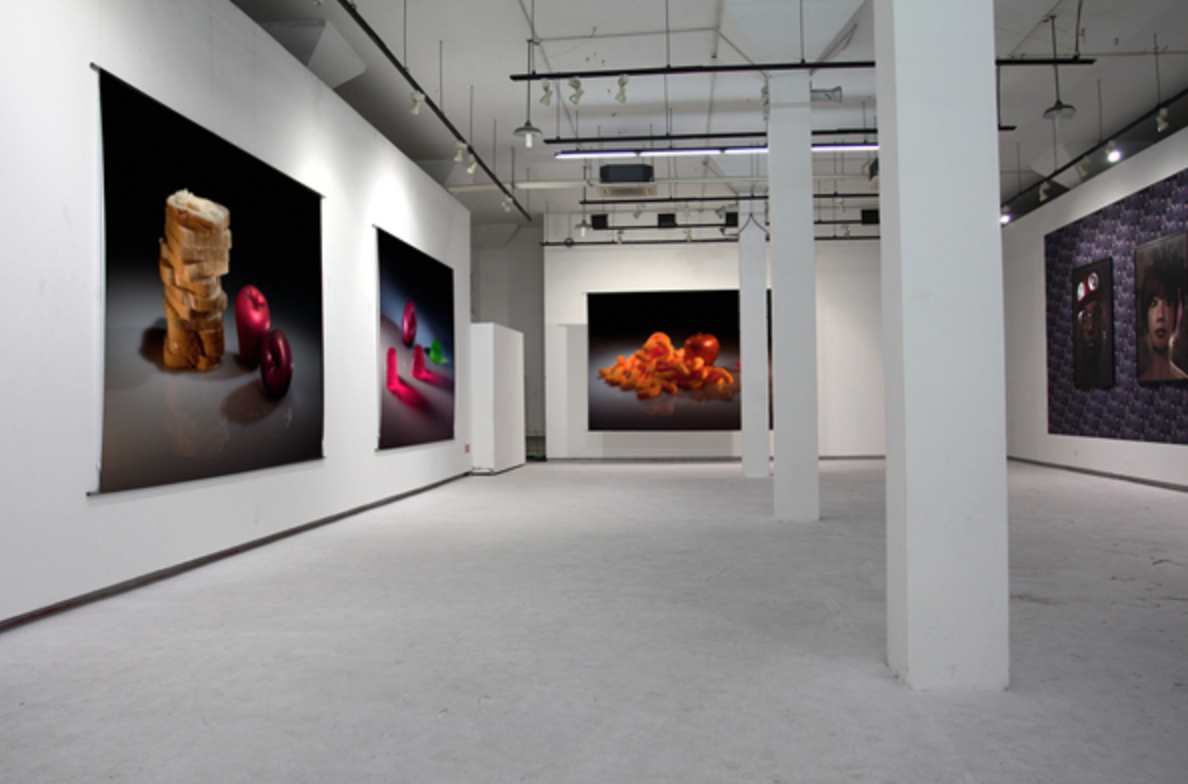 POST-PHOTOGRAPHIES
Claudia Hart and Yefeng Wang
curated by Hanna Yoo

99 Creative Center
Fine Arts College of Shanghai University
M50 Gallery District, Shanghai
June 18 - June 27, 2013


Post Photographies plays on the current status of photography as an analog medium. American artist Claudia Hart and Chinese artist Yefeng Wang create digital images and videos. Both artists are fascinated by the idea of the real and the virtual as it has been radically changed by visualizing technology that is now digital. Their works consider what might be real and what might be considered "natural" in a world of media where reality is virtually simulated. High-end 3D graphic software, their primary artistic tool, digitally simulates many qualities of the real world in a computer, rather than capturing it with an analog camera using a lens, therefore "post-capture," meaning post analog.

For Post Photographies, Hart and Wang worked closely with Yunchang Advertising Co., Ltd., a local advertisement production company in Shanghai. This special collaboration adds another layer to the exhibition: a reflection on the relationship between post-photographic simulation techniques as contemporary art form and also as a commercial language. 3D special effects and simulations have become dominant visualizing strategies in the digital era, mostly adopted by both Hollywood and the advertising industries. The dominant presence of these technological mediums by commercial industries often causes their devaluation by the art world. This exhibition refutes that devaluation.

Integrating such tension in their works, the featured artists both creatively adopt the language of advertising. Hart's The Real and The Fake (2011) was originally conceived of for fine quality inkjet printing on archival rag paper, but has been printed and displayed here like street billboards specifically for this Shanghai exhibition in response to the glitzy media culture of the city.

Wang's self-portraits in his Representatives (2013) refer to wallpaper, commercial flyers, and also to posters. His digital impersonations of different genders and races appear to be advertising campaign models, although all are actually manipulations of his own self-portrait. Hart's images incorporate 3D models of apples into "real" analog photos of American junk foods to simulate both industrial product-shots and magazine food-editorial photography.

Playing only slightly outside of the conversation between the two main works, Hart's latest work Digital Death (2013) can be thought of as an introduction to or a commentary on the show. The paradoxical story of a tree that is both growing and un-growing at the same time is a romantic contemplation on what might constitute the natural in the 21st century, or as Hart has stated, "the impossibility of the authentic in a post-digital age."

Hanna Yoo
Press Release: Post Photographies
June 18, 2013

Exhibition generously supported by the Yunchang Advertising Co. Ltd., Shanghai, China.