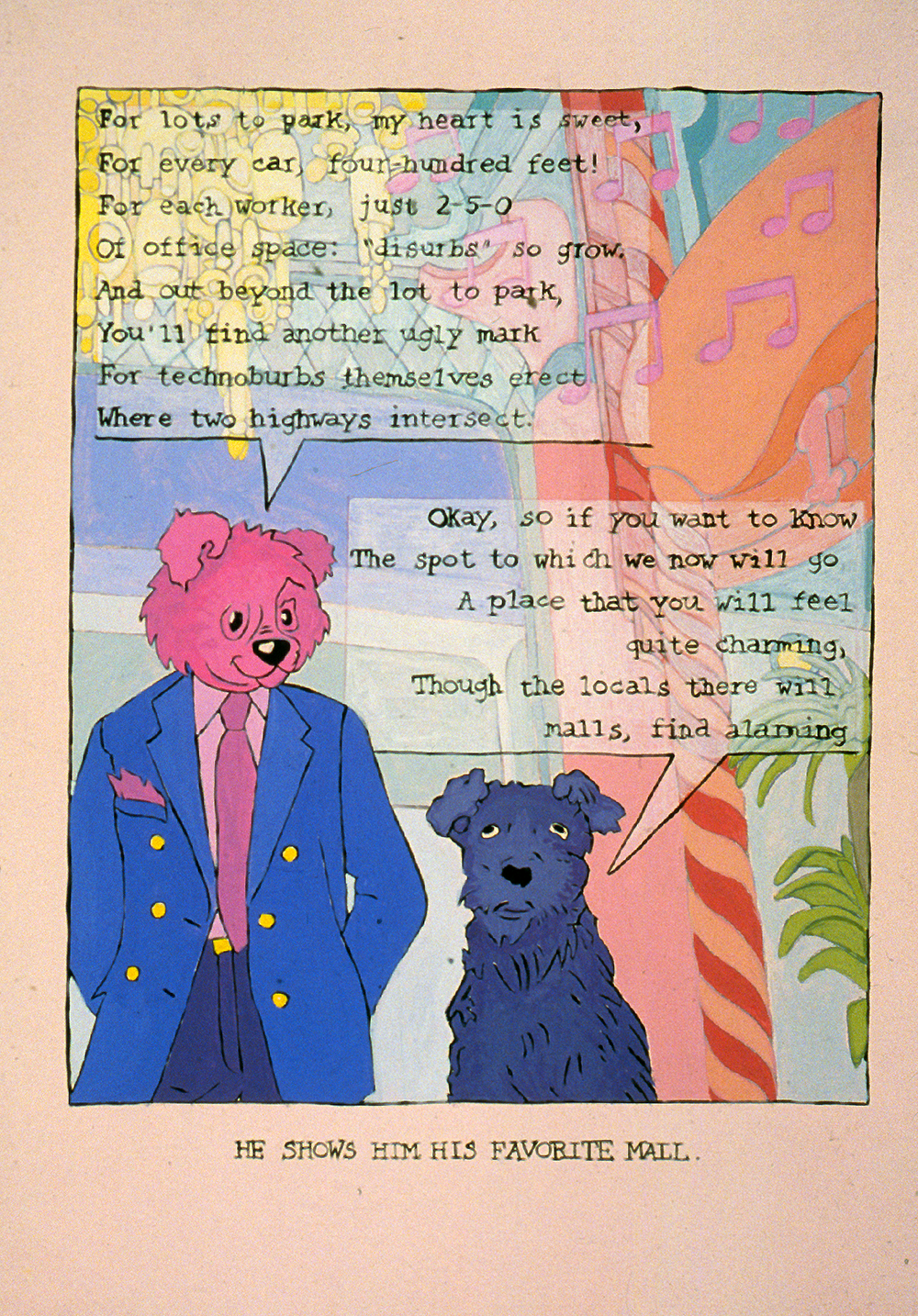 PDF of Dr. Faustie's Gudie to Real Estate

Dr. Faustie's Guide to Real Estate
Development, 1997-1999

Exhibitions (6-foot watercolors on paper, wall paintings, and sound work done in collaboration with Trudy Reise): Shift Kunstverein, Berlin, 1998, Contemporary Art Gallery, Vancouver, Canada, 1997, Galerie Sylvia Steinek, Vienna, 1997

The Dr Faustie exhibitions showed pieces from the body of work comprising Dr. Faustus' Guide to Real Estate Development, an allegorical representation of the reconstruction of Berlin during the five years Hart lived there, between 1991-1996. Dr Faustie consisted of a book, printed in both English and German by Nautilus Editions, Hamburg, with the support of the national German Kunstfond Bonn grant , and a series of exhibitions.

The exhibitions consisted of large (170 x 130 cm) gouache paintings on paper of images excerpted from the original book, wall paintings and a "theme" song. At the scale produced, the paintings became part of the historical tradition of Pop art. Although Hart's paintings may be considered in relationship to the work of American artists such as Roy Lichtenstein, she erases the boundary between high and low culture further than her sixities predecessor, being both the creator of a piece of "pop" culture AND the "high art" paintings inspired by it.

The book Dr. Faustus' Guide to Real Estate Development, was inspired by the milieu of post-Unification Berlin. The issues of real-estate development, speculation and a pumped-up 'booming' economy written about allegorically by Goethe in the early nineteenth century were also enacted everyday in. Although Hart's aphoristic text was not specifically inspired by contemporary Berlin.

Dr. Faustus Guide to Real Estate Development synthesized various interconnected sources: Faust, Parts I and II by Johann Wolfgang von Goethe (1768 - 1832), two Marxist interpretations of the Goethe text - Goethe and his Age (1947) by Georg Lukács and All that is Solid Melts Into Air: The Experience of Modernity (1983) by Marshall Berman - and two contemporary texts: Dale Carnegie's How to Win Friends and Influence People (1936), "the first and still the best book of its kind - to lead you to success (over 15 million sold)", and Edge City by Joel Garreau (1991). Garreau's book describes the development of a new urban form the Edge City or "technoburb" now found everywhere in North America, particularly in Vancouver where the exhibition evolving from Dr. Faustus will be.

Both Berman and Lukács describe Faust as a tragedy of development, with Dr. Faust as the original paradigm of the capitalist tycoon and real-estate developer. Both critics describe Goethe as inspired by the utopian communitarian Socialism Saint Simon. The Carnegie book is an archetype of idealistic entrepreneurial American Capitalism. The "Carnegie course" was adopted by millions of Americans, particularly during the booming post World-War-II years, and was reissued, after going out of print, during the Reagan Eighties. Carnegie has become an American cliché for naive, Utopian capitalism.

Hart's Faustus therefore interpreted Carnegie's course as a dialog between Mephistopheles and Faust. The dialog was written in rhyme to parodying the original Goethe. The settings and beings represented in them were drawn from Goethe's Faust. Most of these environments were in any case cliché representations of German Romanticism: Gothic castles, craggy mountain tops, black forests, etc. The characters dwelling therein were also Romantic creatures: devils, sphinxes, fairies, goblins, witches, and of course, the famous poodle. Taken from the settings depicted in the many gothic comic books, these environments compose a significant part of German popular culture, a final act of the Romantic legacy. Hart's intention was to transgress the strictly upheld boundary in German culture between "ernst" and "Unterhaltung" (high and low). In this way, the works were particularly effective in that they were chastised as being "illustrations" and "not really paintings" by the German press.